This week's episode of SmackDown comes from London, England and airs on the USA Network on Thursday, April 21, 2016.  The WWE is closing out its tour overseas on the build-up to the WWE Payback pay-per-view (PPV).  For full results and the live blog, click here.
_____________________________________________
That's What Friends Are For
Miz TV starts the Blue Brand show for the second week in a row.  Maryse introduces the host of the show, the Intercontinetal Champion, the Miz.  The guest for tonight's show was AJ Styles, the number one contender for the WWE World Heavyweight championship against the champion, Roman Reigns, at Payback.  Styles was asked on the show to ask about his affiliation to Luke Gallows and Karl Anderson in the WWE.  Miz immediately brings up his relationship with Gallows and Anderson in Japan.  Styles makes a joke about knocking out two of Miz's teeth.
Miz questioned Styles about the attack on WWE WHC this past Monday.  Miz claimed that since Styles did not tell his friends NOT to attack Reigns, he was guilty.  Styles knew his friends were looking to make a statement in the WWE and had already attacked Reigns' cousins, the Usos.  Miz claimed that Styles needs Gallows and Anderson to beat Reigns.  Styles needs help from his guys to beat THE GUY.  AJ insisted that he does not need any help to beat Reigns and he was upset about the attack on Reigns.
Then Miz and Maryse got all weird for a minute, with her having him pretend to be Will Smith and then the two getting all lovey-dovey together.  Styles had seen and heard enough for the Miz and attacked him, which sent the A list couple out of the ring.  This set up a match later on in the night between Styles and the Intercontinental Champion.
Styles and Miz have great chemistry in the ring.  The came at each other fast in the early going, reversing a lot of each other's offense.  Styles got creative with a Muta Lock.  Miz looked vicious on his offense.  Styles let Miz get the better of him for too long.  Miz took a powder and made AJ give chase then used Maryse as a shield to gain the unfair advantage.  The IC Champ used the environment outside the ring, ramming AJ's face into the barricade.
The match was up tempo with a lot of back and forth from Miz and Styles, with the latter doing moves on Mauro Ranallo can pronouce.  AJ's leg became a focal point of attack from Miz after it was obvious tweaked.  Miz used a Figure 4 on Styles, which was eventually reversed.  Styles used the Calf Crusher but Miz fought his way to the rope.  Miz avoided a springboard forearm and was looking to ditch the match with Luke Gallows and Karl Anderson showed up to block his way.
Styles hits the Phenomenal Forearm on Miz to win.  He looked at his friends as they gave him the thumbs up.  Styles' body language certainly seemed to imply he was not happy that he friends interfered in his business yet again.  But, is that all an act?
Later, Gallows and Anderson claimed that Styles is not involved with them.  He does not need them.  They also announced that they will make their in ring debut against the Usos against Monday on RAW.
_____________________________________________
HE'S A LITTLE GUY!
This above title is what stood out the most for me during the United States Championship match at WrestleMania 32 between the champion, Kalisto, and Ryback.  The challenger yelled this during the match, probably because he just cannot get over how tiny Kalisto is.  The second thing that stood out is that Kalisto accidently exposed a turnbuckle, which Ryback went into shortly after, and that is how Kalisto hit his finisher to win that match.  Remembering these two things, I am not the least bit surprised that The Big Guy was not yet done pestering the two time US Champion.  Ryback requested a rematch against Kalisto, non-title, to prove that what happened on April 3rd was a fluke.
During the champion's entrance, commentary brought up how Ryback dominated their previous match.  Tonight was no different.  Ryback came about the Champion with a brutal attack and thwarted every single attempt at offense from Kalisto very early.  One spot in particular where Ryback just slid Kalisto into the ring post looked particularly vicious.   Ryback performed a delayed superplex for a near fall.  By this point, Kalisto is whimpering and screaming in pain.  Ryback then puts Kalisto in the Tree of Woe and stomps him until the referee pulls him off.
Kalisto avoided further contact and got the advantage with a guillotine leg drop.  He got the momentum for a while and scored a near fall with a floating DDT out of the Shell Shocked.  Ryback caught him out of the Salida del Sol into a Shell Shock for the win.  Pretty much, the match was that Kalisto has a small chance to win but Ryback was just too strong.  This time.  After the match, Ryback celebrated with the title, so these two are not done with each other.
_____________________________________________
The Likable Lunatics versus the Angry Canadians
The announced main event of the evening was Sami Zayn and Dean Ambrose versus Kevin Owens and Chris Jericho.  In their pre-match backstage interview, Dean Ambrose calls KO and Y2J dirty, rotten scoundrels and he and Zayn will make them feel like two pounds of spotted dick.  Sami Zayn talked about how Ambrose has turned down tag team names that he has suggested such as Sambrose and Ska Madness, while Ambrose insists they will be deemed the Rough Riders for the night.  The two head off to prepare for their match.
In the main event, Zayn and Jericho squared off in the match first, fresh off of Y2J's tainted victory of the Likable One on Monday.  Zayn was able to gain control of Jericho and got a tag into Ambrose. After Jericho took Ambrose down, he went for the Walls of Jericho.  Ambrose was able to escape and went for Dirty Deeds but Jericho escaped to the outside of the ring to regroup with KO.
The Angry Canadians take over the match, isolating Dean in their corner.  KO took time to taunt Zayn on the apron and let the crowd knows he's the man during the beat down.  Ambrose was able to cut off Jericho to get a tag into Sami, who came in a got a cross body on Jericho for a two count.  He kept control of the match until a blind tag by Owens, who sent Sami shoulder first into the barricade.  KO called Dean "crazy guy" while beating Zayn and called out "Lionsault, baby" as Y2J hit his signature move on Zayn.
Zayn hit a Blue Thunder Bomb to stop Jericho's offense and got the hot tag to Ambrose as Jericho tagged in KO.  The action spilled outside of the ring where Jericho helped even the odds, which lead to a superkick from KO inside the ring.  After a two count, Ambrose was able to hit Dirty Deeds on KO but Jericho stopped the pin fall.  The match broke down and, in the confusion, Jericho pushed Ambrose from the top rope, which allowed KO to get the pin.  And, now I would not mind if KO and Y2J decided to tag for a while.  They are a pretty good team.
_____________________________________________
Other Matches/Segments:
Dolph Ziggler versus Baron Corbin: The Lone Wolf attacked Ziggler during the entrance, sending him into the steel steps and the barricade before delivering the End Of Days on the floor.  As Corbin was leaving, Rich Brennan asked why.  Corbin smiled and replied, "Because I can."  I mean, how else would he answer that question?  Seemed pretty obvious to me why Corbin attacked him.  I have seen some people say that they feel that Corbin is boring.  Trust me.  I used to feel that same way.  Of all the recent NXT call ups (really not worried about Enzo and Cass), I urge those who feel this way to just give him a chance.  Corbin love is strange.  It sneaks up on you.
Team Bad versus Paige and Natalya: This match gave me some hope that some sort of tag team belts for the women could become a thing.  I like the tandem moves between both teams.  Naomi has become very good at tag matches, in my opinion.  Natalya and Paige got the win with dual submission holds, although Paige was the legal woman.
R-Truth versus Fandango with Goldust as the guest referee: If the pa off to months of R-Truth and Goldust segments was a match in which Goldie, Truth, and Fandango all dance with each other for most of it, then it was totally and completely worth it.  To me, stuff like this is harmless, silly fun.  Not all of the silly stuff WWE does connects with me but I really like both Goldust and R-Truth.  I look forward to them winning their future feud against the Vaudevillians.
Enzo and Cass/Vaudevillians  promo battle: The two teams that will face off at Payback to become number one contenders for the WWE Tag Team Championship faced off in a verbal war of words and . . . . it seems as if WWE are booking Enzo and Cass to succeed and the Vaudevillians to fail.  I didn't think any of this was great, to be honest.  The crowd was into Enzo and Cass, so there's something.
Welcome to Puerto Rico: So, was I right that Primo and Epico are now real estate agents and bought time on WWE TV?  Like, shouldn't there be a number or some type of contact info during this ad if that's the case?

Final Thoughts/Opinions:
It's been a long day and SmackDown was exactly what I needed to see.  It was a fun show. Sure, there were issues but, on a day like today, this show was perfect.
Rating: 10 out of 10
_____________________________________________
I would like to take the opportunity to remember Joanie "Chyna" Laurer, who passed away this week.  As a teenager watching the WWF, there was no one-male or female-who I thought was more badass than the 9th Wonder of the World.  I really hope she has found peace and I will never, ever forget her.  Watching Chyna kick men's asses changed my life.  She made a poor black girl from the deep South believe that anything is possible and that all women are beautiful and powerful.  Rest In Peace, Chyna.  You will be missed.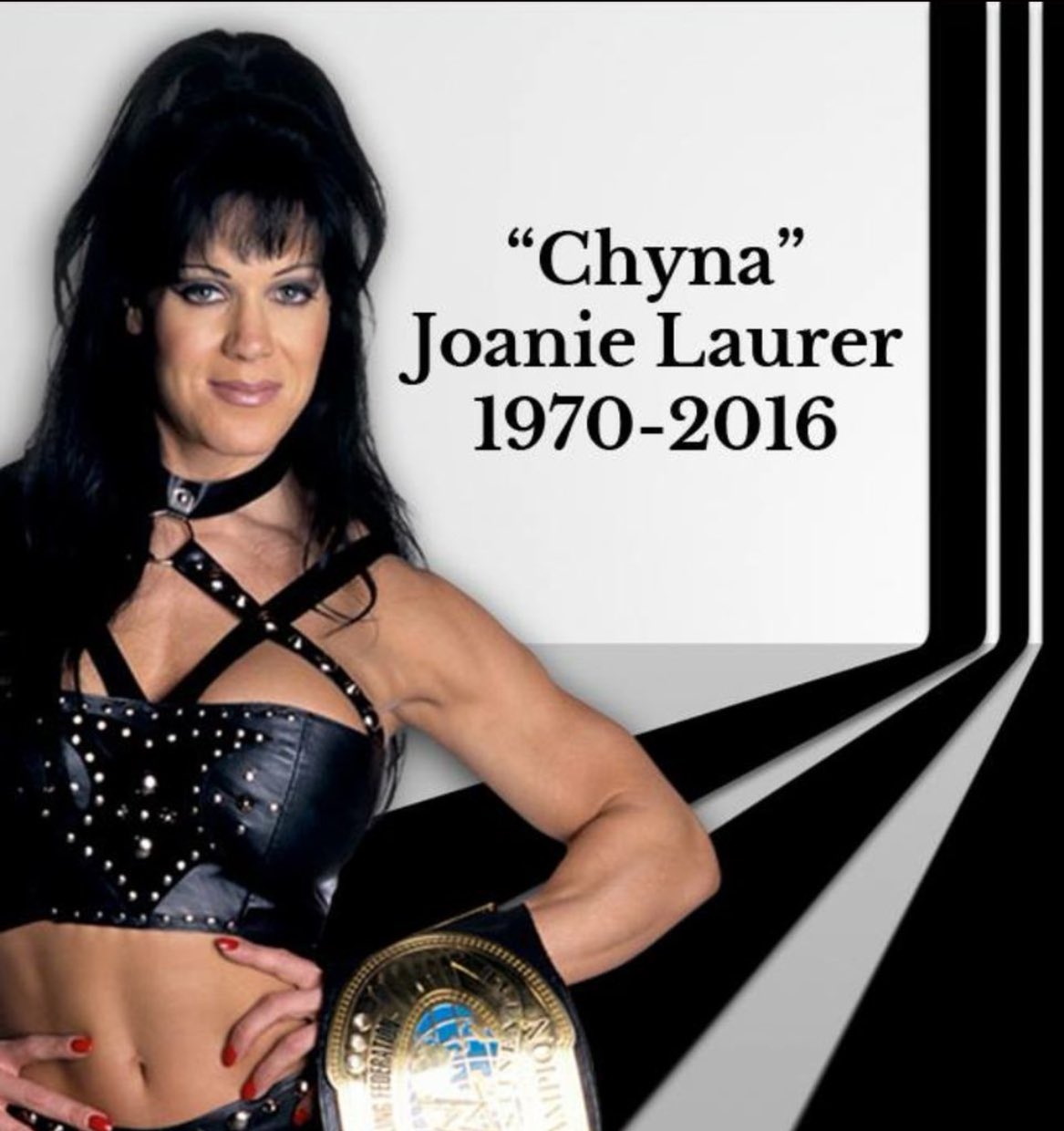 That's all for this week, Cagesiders.  Let me know what you thought in our comment section.  Remember, whatever you post will not be a good comment; it will not be a bad comment; it will be THE comment.