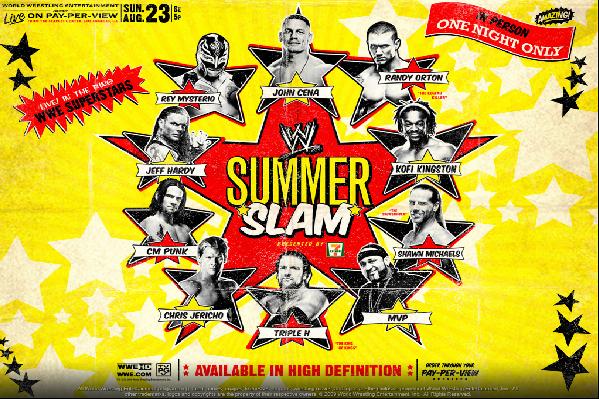 The biggest wrestling event of the summer was held Sunday night. Was John Cena able to regain the WWE championship from Randy Orton? Who was victorious in the TLC match for the World title: Jeff Hardy or CM Punk? Which major star returned during the show? Answers after the jump.
Intercontinental Champion Rey Mysterio pinned Dolph Ziggler
MVP pinned Jack Swagger
Tag Team Champions Chris Jericho and The Big Show defeated Cryme Tyme when Jericho pinned JTG
Kane pinned the Great Khali
Shawn Michaels and HHH defeated Cody Rhodes and Ted DiBiase when Michaels pinned Rhodes
ECW Champion Christian pinned William Regal in 8 seconds. After the bout, Christian was assaulted by Regal, Vladimir Kozlov and Ezekial Jackson
WWE Champion Randy Orton defeated John Cena. First Orton was disqualified for shoving the referee, but Vince McMahon informed Lilian Garcia (perhaps telepathically, since Vince did not appear before the crowd) that the match was to continue. Orton then walked away from the ring and was counted out, but again the match was ordered to continue. Orton then pinned Cena with his feet on the ropes, but the match was restarted again. Cena placed Orton in the STF but a planted fan ran in and put the referee in a rear naked choke. After a new referee took over, Orton gave Cena an RKO for the pin
CM Punk defeated World Champion Jeff Hardy to win the title in a Tables, Ladders and Chairs match. After the match the Undertaker returned and chokeslammed the new champion.