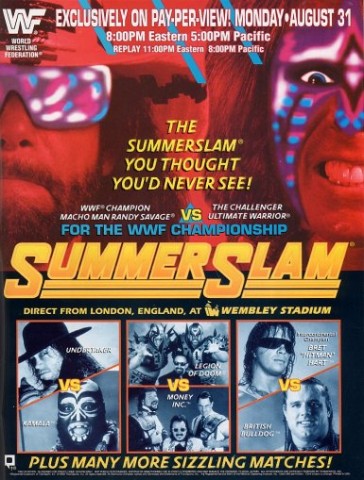 A ton of people will think this should have been #1.
Alright, we are in the home stretch with this countdown now. Today, I will be posting #3 & #2, with #1 going up a little before tomorrow night's SUMMERSLAM.
This SUMMERSLAM took place at Wembley Stadium in London on August 29, 1992, but didn't actually air in the States until 2 days later on the 31st. The WWE considers this the second largest crowd they have ever had for a live event, just behind Wrestlemania 3. However, many wrestling historians have always believed the attendance numbers the WWE put out for WM3 were inflated, and that THIS is actually the largest crowd in WWE history.
While the Ultimate Warrior vs "Macho Man" Randy Savage for the World Title match was advertised as the main event, it was actually this match, Hart vs Bulldog, that brought the crowd out to cheer the Bulldog onto his potential first singles title win in the WWE.
Taken from Wikipedia:
One of the main events was the Intercontinental Championship match between Bret Hart and Davey Boy Smith, brothers-in-law in real life. Smith was married to Diana Hart, Bret's sister. On television broadcasts leading up to SummerSlam, interviews with Diana and her mother Helen portrayed the family as being torn apart by the upcoming match. Bruce Hart publicly supported Smith, while Owen Hart sided with his brother Bret. Diana stated that she did not know who she wanted to win the match, as she had close ties to both men. She ultimately stated that she simply hoped that neither wrestler would get hurt. Prior to the match, Smith was hospitalized with a legitimate staph infection; despite the concerns about his health, he decided to wrestle the match as planned.
Also, looking at that Wiki entry, I learned that Shawn Michaels was originally supposed to be Hart's opponent. That plan was scrapped once they decided on London being the site, hence the legendary Michaels-Rick Martel "Don't hit me in the face!" match.