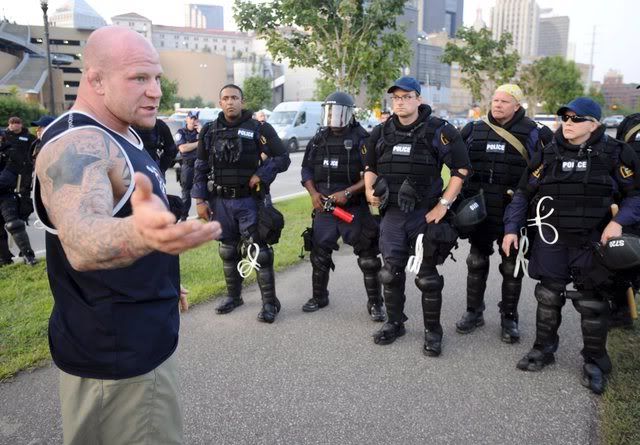 Jeff Monson landed himself on the front page of Yahoo today, but for all the wrong reasons. Aside from winning four fights in five months (including wins over Ricco Rodriguez and Sergei Kharitonov), Monson has risen back into the spotlight to casual MMA fans due to unfortunate run-ins with the law. Along with a recent domestic dispute, Monson, a self-proclaimed anarchist, was in the news when he was photographed by ESPN Magazine while - an anarchy sign on the state Capitol Building in Washington last December. According to Yahoo! Cagewriter (who sourced a sprawling local news article):
Monson, 38, is scheduled to be sentenced in October, with the prosecutor recommending 90 days in jail. He was also slapped with a $21,894 fine for restitution. However, the crushing blow for Monson is that he was forced to hand over his passport. He is reported to have fights scheduled in Russia and Japan in early 2010, and won't be able to travel for them. When asked to turn the passport over, he asked the prosecutor, "Are you going to support my family now?"
Considering Monson's recent string of success, this is disappointing for fans. He is one of only a handful of notable heavyweights fighting outside the UFC, and his inability to fight outside of the US only limits his potential matchups. There had been some speculation that Monson's recent seven fight win streak could find him back in the UFC again, but barring his re-entry (and with this week's news, anything seems possible), it is sad that his options and the possibility of interesting fights in DREAM or other overseas events has been lessened.