What is there really left to say about Vincent Kennedy McMahon?

He is perhaps one of the greatest heels to grace the professional wrestling industry yet he's also featured in some awful angles and matches. People have credited him with making WWE as big as it is while also being the cause of hard times and financial difficulty for the company. Some believe he is a genius when it comes to creative and others feel he is a juvenile man whose ego stops him seeing how awful some of his ideas truly are.
Vince is controversial to say the least.
However, one thing I think we can all agree on is that VKM may have the most expressive face in wrestling.
Whether it be his smug face as he swaggers his way to the ring or his ability to portray white hot burning rage, Vince knows how to pull some of the best faces in the business and this is why he stars in some of my personal favorite GIFs. So let us celebrate both Vince's good and bad contributions by enjoying five useful GIFs featuring the man in charge of the WWE.
Why five, I hear you ask? 'Cause Big E demands it.
1) The Classic


When to use it: Vince's obsession with the "perfect" body comes up.

2) Confused


When to use it: You don't believe Vince has a clue what he's doing.

3) Swagger…no not that one…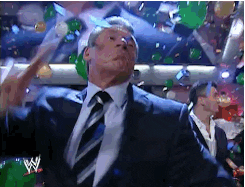 When to use it: There's something to celebrate.

4) Jackpot


When to use it: Something great has happened.

5) The Words Some Hope Kevin Dunn Will One Day Hear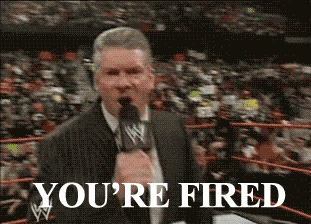 When to use it: Someone has messed up really bad. Although, if any employers are reading this, I'm pretty sure using this GIF is a really inappropriate way to fire someone.
And because there are way more than five great Vince McMahon GIFs, feel free to post your own in the comments. Also feel free to post your suggestions for future Useful GIFs posts.

Previous Useful GIFs
- Big E
- The Shield
- Cesaro
- Daniel Bryan
- John Cena
- Bad News Barrett
- Damien Sandow
- Connor the Crusher
- AJ Lee
- Hulk Hogan
- Stephanie McMahon
- Dealing With Seth Rollins' Heel Turn
- Bayley